And So The Yarn Harlot Enchanted Portland...
Yay for us, the Yarn Harlot was here!
We accumulated a group of at least 100 knitters. There were quite a few people standing in the back as there were not enough chairs for everyone but nonetheless everyone was so excited and happy! I have never seen a group of people who didn't know each other act so happy and friendly to one another. I spoke with the lady beside me all night long and still don't know her name (if you're reading this, I enjoyed our conversations!) and my sister did the same with the lady next to her. There was laughter and general knitterly rowdiness all around...these turned into hoots when the Yarn Harlot showed her face. I do have to say that the Powell's staff seemed bewildered by the amount of reverence this crowd clearly offered Stephanie. If they were knitters they would understand. They did, I say in their defense, hang around and listen rather attentively to her talk. Not in their defense, though, they looked quite confused when she took her customary picture of the crowd with the sock front and center...oh well.
Before going on to the pictures that my sister so kindly took (thanks, Mel!), I must say that there was a little girl sitting in front of us whowas knitting on her mom's lap. She was very young and when she went up to Stephanie for the book signing, Stephanie said, "I was also only 4 when I learned how to knit." It was very sweet.
Now for the pictures, courtesy of Melody (sorry I forgot to get a picture of us together!)
Ms. Harlot was gifted with a felted Cowboy hat and some yarn. Bear with the blurriness. It's not your eyes.
Cute little knitter...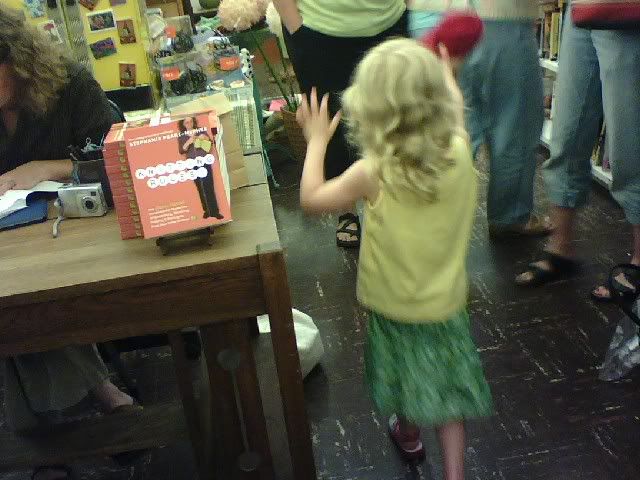 Me: "uh, duh...wow, the Yarn Harlot...I've never been around anyone this cool. I think I should just stare now..."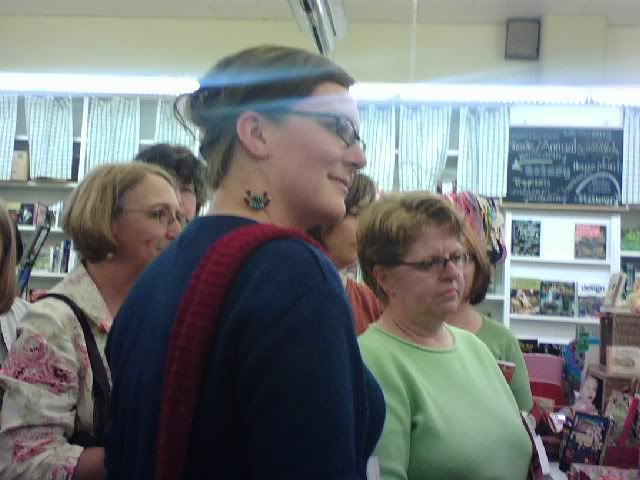 Her: "Can I talk to you just a little longer? That girl behind you keeps staring at me. I think she's going to stalk me and I need a few more minutes to decide what the best plan would be for running away quickly."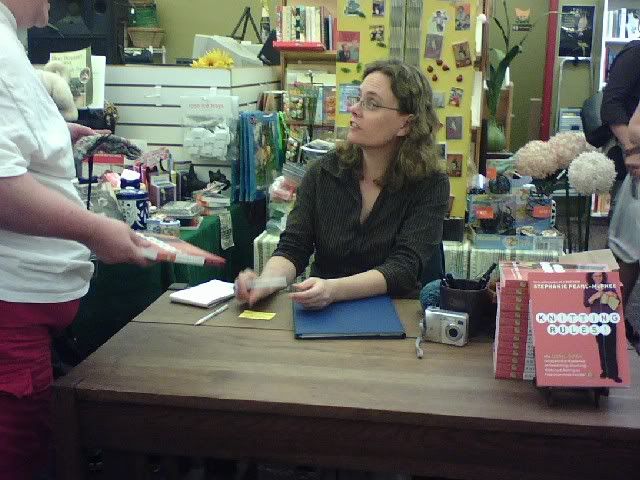 Me: "Well, I got up here without tripping, that's good. She hasn't run away yet. I think that I opened my mouth and said something stupid...she's not looking at me. Maybe it's that whole staring thing that did it."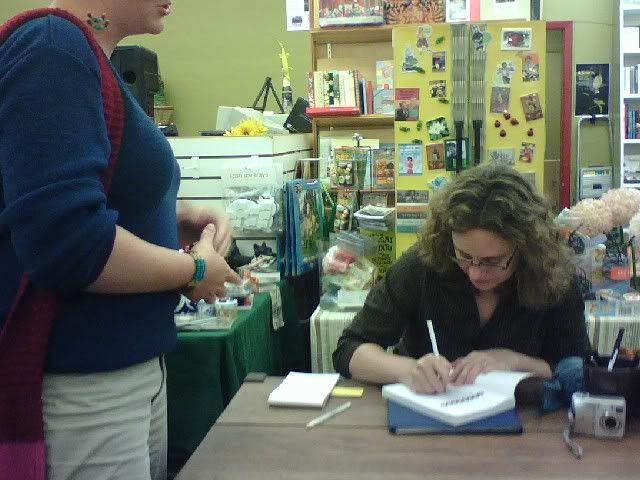 Me: "Phew! Must not have been that traumatic of an experience for her after all. She's smiling at me!" Her: "If I smile at her, maybe she'll go away... You know, she's kinda' funny looking. I can laugh now and it will be natural! Now go away, creepy staring stalker!"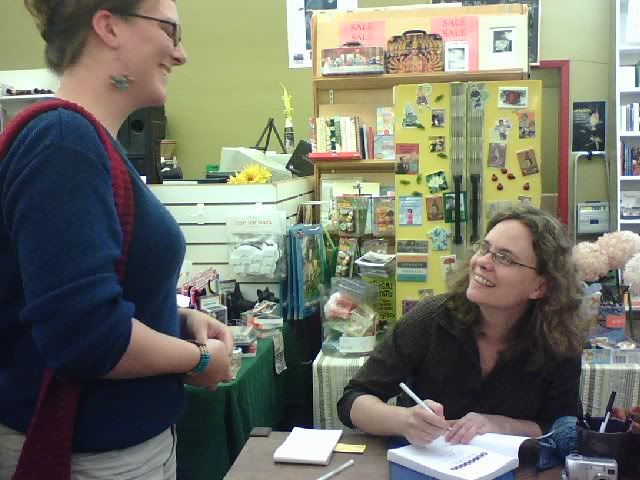 And so the night passed, I went home, she signed more books, I didn't stalk her, and the world was a happier place for all her humour.