Ken & Julie's Wedding Pictures!
We finally get to see pictures of Julie's wedding! Isn't she beautiful? I might add that her groom is not too bad. (Ken, if you are reading this, "not too bad" should be read as "striking".) This picture was taken before the wedding.
The picture below was taken during the ceremony (no one likes anything more than stating the obvious, right?!)
Below they are giving us an idea of how they will be feeding each other in old age. I can just see it now:
Come on, honey, hold still...I can't quite get that piece in...See, now it's all over your face...Oh, now it's on my face too...well, guess it's going to have to stay there...neither one of us can bend over to reach that napkin...it's ok, we'll get it off tomorrow in our bath...
Below you can see friends of the bride and groom. However, the pic below portrays more than just how well they can pick their friends. Yes, it is true...this picture documents beyond any shadow of a doubt that the man with whom I chose to live my life is not quite "all there", if you know what I mean...yes, he is the one in the yellow and black fleece. I am the one smiling knowingly next to him. Let me just assure you that I have approximately 3 pictures of him out of our 7+ years together in which he is not making some strange face...yes, our children will be interesting, that's for sure.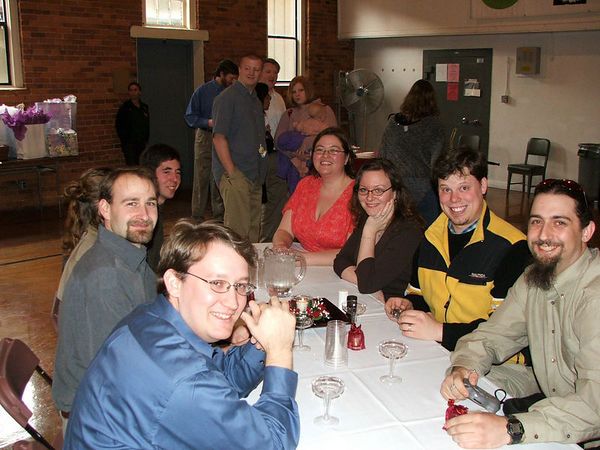 Here is another friend, Micky, with daughter Claire who is 5 (?) months old. Isn't she adorable? Kids like these are what cause my slowly ticking clock to speed up a bit...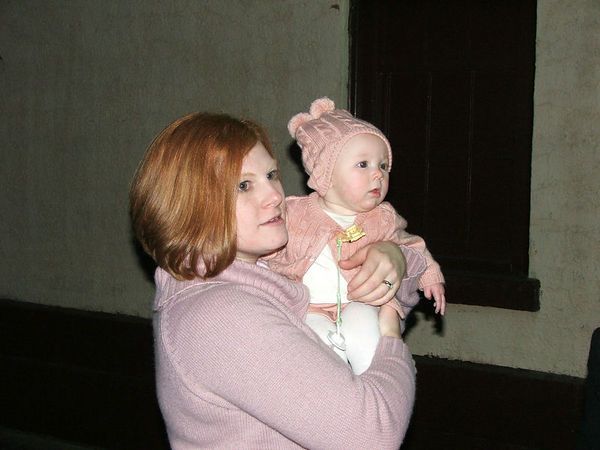 So there you are. Pics of the great couple and their (of course) great friends. Tune in tomorrow for more interesting news from the world of Mrs BJ (ooh, ooh, that's me!).