So much to do, so little time!
Hi. Sorry it has taken me a while to post. Many things happened this weekend.

Friday I hung out with hubby BJ (always a good thing to do). Saturday BJ had a concert in Eugene (he plays trombone in the Beaverton Community Band) so we traveled down there and back. The band played very well and I knitted straight through so I got a bunch done on my Komi hat (see third picture below). My mother-in-law also plays in the band (flute) so my father-in-law was sitting next to me. He has trouble with staying awake at these kind of things so I was fully prepared to elbow him (would sticking him with a knitting needle be ok?) if he started to snore. He actually did remarkably well and between the loud brass instruments, half a tin of altoids, and sitting all the way forward on his seat he managed to stay awake through most of the performance. Trust me, it's an accomplishment.

Sunday I met with some awesome knitting gals. I am a member of Jeanie Townsend's Sock KnitAlong Yahoo Group and another member of that group, Tammy (Hi Tammy!) visited by blog and noticed I live in Lake Oswego. She lives in Beaverton/Aloha area which is not that far away. So, she and I started emailing and arranged a to meet and see if any other knitters wanted to come along. Of course, I recruited my awesome new-knitter sister to come with me and Tammy brought some of her friends along as well. We even had another member of Jeanie's group come down from Washington to join us! We met at Yarn Garden on Hawthorne St in SE Portland, Oregon. That is a nice little shop. Actually, I should say the coffee shop is little. Attached to the sipperie is the Yarn Garden itself, home to skeins and hanks and balls of fibre galore. You see, Melody (my sister) and I went into one room and thought "Wow, this is neat" then finished looking around and went to exit back to the yarn shop when - WAIT! - what is that I see? Another room?! So we ventured forward into uncharted territory. Oh, more glorious colors and textures! I bought a ball of Sockotta yarn in spring colors (Yes, one more project - socks for sister) and we headed back to the sipperie. But - OH MY! - another room?! Yes, it went on like this for two more rooms. It is amazing! So, all that to say, if you are in the area, you should check out Yarn Garden. It is worth the visit and has a coffee shop attached to make the whole experience perfect!
Now, before I let you see the photos of my UFO's, you must hear the following very important news: Tangle Knitting Studio in Lake Oswego, Oregon has an informal "come sit and knit" time every Sunday. I dropped in there after leaving Yarn Garden in hopes that some yarn (handle for purse in progress) I had ordered had come in. It hadn't, but there were at least 15 women sitting on couches and chairs chatting away and all knitting something different. I sat down and joined them for a while before I was so hungry I just had to leave before starting to nibble on the yarn. I hear that Yarn Shop Owners take a very dim view of such things. So, all that to say, again, if you are in the area, stop in! I am going to start going dropping in regularly for at least an hour or two at at time. Alice opens up at 12:00 on Sundays and closes at 5:30. Be there or be square! Wait, a better motto - Be there AND be square! Now that's what I'm talking about...

(By the way, I will add links to this post tomorrow so you can investigate all these wonderful places. I'm thinking that my computer is only so cooperative tonight and its good graces don't extend that far right now.)
Now on to projects:

The poncho is almost completed (finally!). Yes, this is the one I was going to have done by the end of the Knitting Olympics. Shhh...I heard that. It's not like you finished yours either! Geez! All that is left is the fringe and...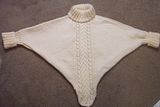 Seaming below the cuffs! See this cuff below? It seems to be cut off for some reason but maybe you can see anyway that it is not joined past the cuff. I don't like that because it seems to let drafts in. So, though the pattern doesn't call for it I am going to seam it up about 4 inches and call it done. That should leave the front loose but cut off the air flow from the side.

Here is the progress on my Komi hat. I actually completed more today during my lunch break and while waiting on my MRI at the doctor's office. I frogged it down to the light green stripe there at the bottom. The background is earth green and the foreground was brown. The pattern wasn't showing up as well as I would have liked so *rip* and start over with red! I think it will look nice with just the green background and then the contrasting pattern of red and light green (which you will see more of the closer I get to completion). So far so good!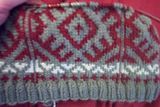 Here's my attempt at spinning Merino. Yeah, not working out as well as the wool I was spinning before. This is a lot more slippy, but oh so soft! I'll keep trying, though, and it will just have to be considered unique hand spun yarn when I finish. I think I'll make felted slippers with it.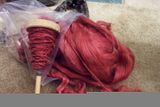 Cuff finished on a gold club I'm making for BJ. The argyle pattern is just starting. Blue background, Red diamond with white diagonal stripes. I'm using Wool Ease yarn on size 6 dpns.

Well, that's all for now. Time for a warm, cozy bed and a long, refreshing sleep.