Felting Covers Over a Multitude of Sins
Hi again! I hope you are all doing well. I have been both busy and sick so I haven't posted recently but I'll treat you to a few pictures today and then if I have a chance tonight I'll update further. To start off, MY WRAP IS COMING ALONG! Yes, the wrap that caused me such heartache when I had to do lace-ic surgery (haha, I find my own jokes funny) to fix my mistake a few rows previous. The wrap that has about a billion stitches and a billion more rows. Yes, that one. It is coming along! I can see the diamond pattern now and know I am actually making progress! But no, I have no pictures yet. I'll try to take care of that tonight for you. Until then, feast your eyes on my sister's projects. Yes, Melody's purse is coming along nicely (she has more done than in the picture) but is on hiatus while she focuses on getting her art projects done by their due date this Friday (yes, Melody, I know you are reading this...GET BACK TO WORK!!!) :-) Ah, sisterly love. Now, Melody's purse carries with it an interesting twist. Since she is putting green stripes up the corners this would generally be done as intarsia. However, she can say been there, done that, very very slow and tedious. So, we decided we'd try an unorthodox method and see how that went. Well, though we can't yet see the finished product we can say without a doubt that so far it is much faster. Instead of working the whole body of the purse in the round she is working the purse section by section (back and forth on dpns) up to the desired height. After all the sections are completed she will go back and take a tapestry needle and seam the sections together as if she had knit them. We figure that if it is seamed correctly it should come out just fine, especially since in this case she will be felting the bag afterwards. Felting covers over a multitude of sins. Speaking of felting, I have almost finished my felted bag as well. Strap and body are done. I just need to connect them and felt, dry, and walah!
Melody's purse (w/ bobbins, b/f scrapping the intarsia idea):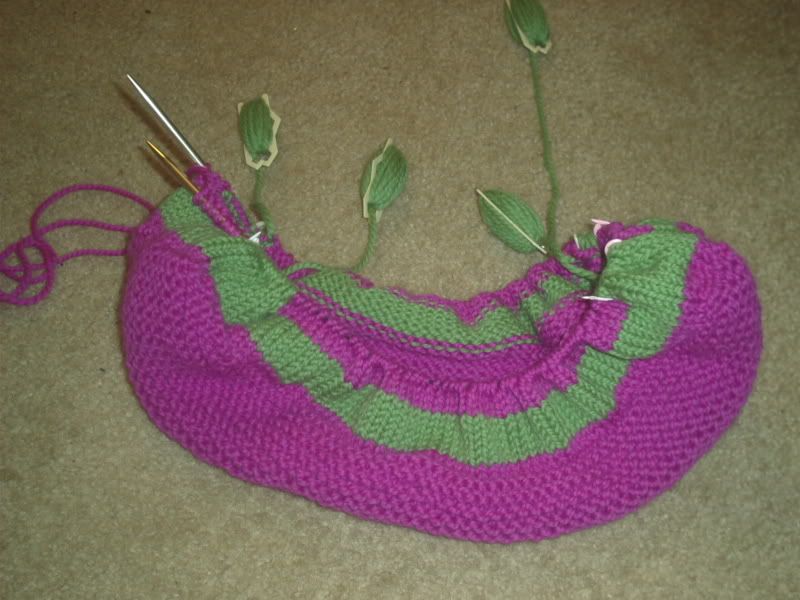 Close-up of the yarn used for my soon-to-be-felted bag. Cascade 128 Rust Tweed. Gorgeous.
That's all folks! Have a grand day!