New UFO's
Hi. Over the weekend a lot of projects were started and follow me wherever I went begging to be worked on a little more. So, the UFO's started this week are as follows:
1) Hat to match aunt's finished poncho. I was using the leftover yarn from her poncho, ran out, found a ball in my stash of a close (please be close enough) color and I'm working one row of the old color, one of the new, for a few rows so as to deceive the eye into believing they really are the same color. I am just starting the decreases for the crown and will probably just simply gather the very top of the hat by pulling the yarn through the last few remaining stitches so as to create a little circle of stitches at the top. ( will have to upload this picture later)
2) Throw for the futon. For too long I have had a cone of a fingering weight rayon/chenille mix sitting around waiting for me to do something with it. The scarf I started a few years back with it didn't actually continue on to anything productive and since then the cone has sat dormant. Friday night I decided I wanted to actually come up with an idea for it so WALAH! a pattern (can you call simple cast on and garter stitch a pattern?) for a throw was born. This is also close to being completed considering that it is quite simple and is being knit up on size "humongous" (I have no idea as to the size; my husband found them in his parents' garage. I guess they used to be his grandma's. The largest size needle that I have other than these are size 15 and that measures 3 1/2 cm around. These Grandma needles measure 5 1/2 cm around. Wow.) so they are moving along quite quickly.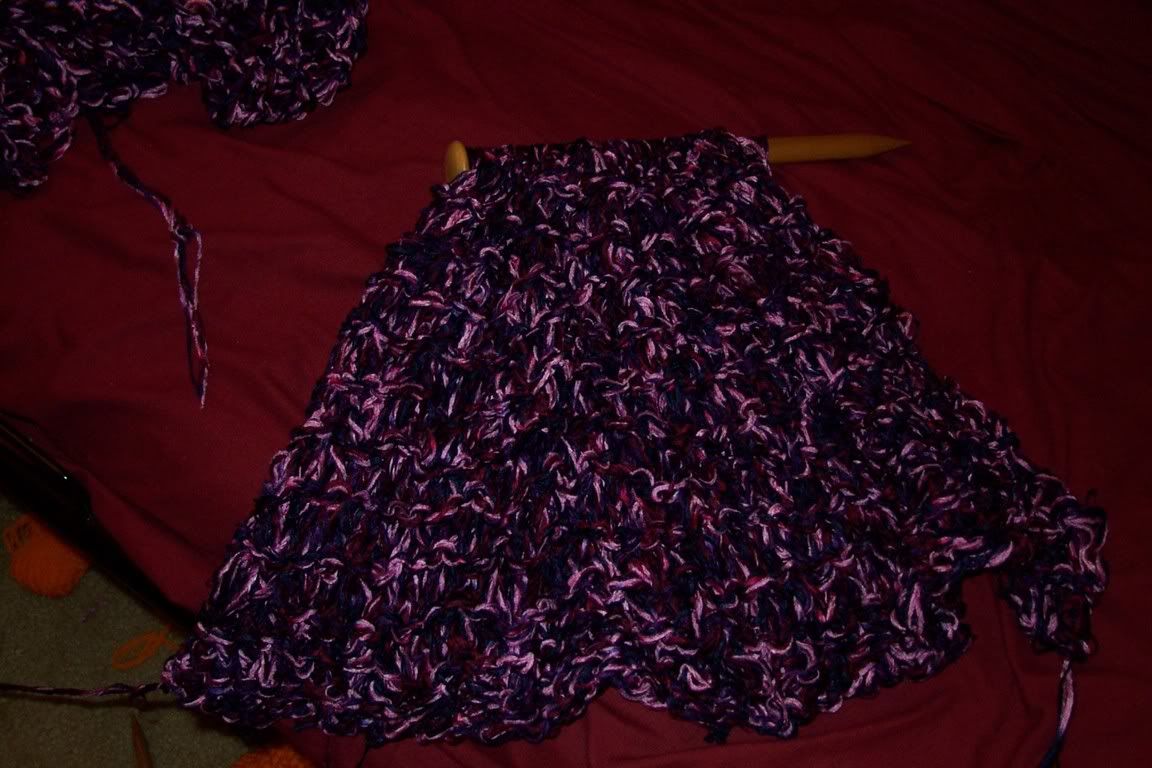 3) This inspiration to knit up what has been laying around heretofore unused evidently was meant to extend further. In my knitting basket was yarn I found in my stash that must be from the 50's at least and was with a crochet pattern for slippers. I have no idea where I got this from but I do know that in my younger years I thought that it might actually crochet up into interesting slippers. Being older and having looked at the slipper picture on the front of the pattern far too many times I realized that I can now say I distinctly know a few things at least: the pattern was hideous, the yarn's appearance was hideous, the yarn's texture was hideous, and how I thought that anything wearable could come from it is beyond me (the current me, not the past me). So, the pattern was thrown away (don't cry, just trust me. It was horrible beyond anything you can imagine.) and I left the yarn as is in my basket for a few weeks. Friday night inspiration caused me to look at the yarn with new eyes. I suddenly knew that due to it's horrible orange color and despicable texture I was never going to make it into anything that I would wear or use as an accesory. So, it suddenly occured to me that the restrictions on the yarn made it ideal for one thing: a bathroom mat. Since we have a colorful fish decorating scheme going on in the bathroom it is actually a very good use of this color. Since it will be under our feet I will not have to feel it on any other part of my body. Since I am making it from yarn I already have I will not have to buy the mat I was going to buy for the bathroom. Genius. Pure genious.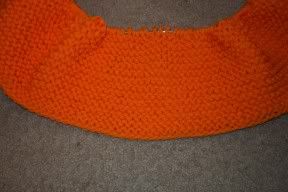 Last but not least, Tammy found the
picture
of the sock pattern made up in Knitpicks Sock Garden Hydrangea. It is actually a chevron pattern instead of Jaywalker and I think it actually looks pretty nice. The pattern is from Sensational Socks and Tammy, if your offer still stands, I think I would like to borrow that book from you. That would be great! Thanks for your help figuring out a pattern for this colorway!
I checked out
Socks, Socks, Socks
,edited by Elaine Rowley, from the library a few weeks back. I think I found a simple pattern I will use for my tomboy cousin who wants the orange socks. The pattern is called After Bertha and is written by Diane Ballerino. They are a simple spiral ribbed pattern but with no heel. I think I will add a heel to them but have the spiral rib on the cuff and foot. I think that will satisfy the requirement of a not-too-girly pattern.
And with that, I bid you
Dobra Vecher
(Russian for Good Night).