Yarn for New Projects!
I'd like to introduce to you PUFF. She belongs to one of my bosses, Tom. Is she not completely adorable? I would love to get a pug along with our corgi (that we don't yet have...)but my husband doesn't want to "clean out their wrinkles". Hmmm... I think I could handle cleaning wrinkles so that I could welcome such a dog to our family. Guess we'll wait and see.
(NOTE: I just spoke with Tom and he says that there is no need to clean out the wrinkles for these little dogs. That tends to be needed only for the bigger wrinkly-faced dogs. He also added that Puff brings here food over to the scale, sets it down and eats it there. Smart dog, no?)

(Dog Thoughts: Not another pound! I just can't beat this thing. If only my parents would get me one of those no-exercise-needed weight loss pills. That would just make my day)

Oh yeah. As for the blue self-striping Opal sock. Yeah, forget the idea of adapting it for myself. It came close to fitting, but no cigar. So...I kissed the frog last night and re-wound the ball and tonight I'll be starting large, manly-sized, blue, hopefully attractive boot socks for BJ. I was going to make his after I finished the socks for my cousins but since I now have to wait for the yarn for their socks to arrive (I ordered them from
Knitpicks
yesterday - can't wait for it to arrive!!!!) I will start on hubby's socks earlier than expected. Guess it's good for him that I make silly mistakes.

Here is the color-way of the yarn I ordered for the girls socks. Remember, the older one likes orange, the younger one likes pink/purple. I think they will be happy with the colors I chose. The prices were so good! Each ball is 50g/220 yards. I bought two balls of each just to be safe so that equates to $6/pair assuming that all the yarn is used up. Good buy if you ask me.



I also bought yarn (also from Knitpicks) with birthday money (yay!) for a project in the Fall 2005 Vogue Knitting magazine.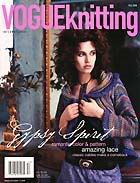 My project will be a rectangular shawl with a sculpted edging. (I will post a pic of the project if I can find it online). The yarn used in the pattern is Cherry Red DK Glitz from Cherry Tree Hill but I decided to go with the Red Hat color in Gossamer (below right) and accent it every few rows with the Ruby in Butterfly Kisses (below left). The Gossamer is lace weight instead of DK but I will double-strand it while working and then just adjust the pattern to the size I want. The Butterfly Kisses is somewhat ethereal when knitted up so I think it will add just the right amount of glamour to the piece. I'm so excited for the yarn to arrive and my work to begin! You ask will I be able to concentrate on my other projects in the mean time? Oh come now! This is knitting we're talking about. I will knit to relieve the anticipation of beginning more knitting. What a vicious (delicious) cycle!