Wanted & Found: Man Interested in Knitting
Hi everyone! After days of trying unsuccessfully to post, here I am. I wrote an interesting, descriptive, wonderful post detailing my weekend and projects and then lo! and behold! it all disappeared in an instant when suddenly the server was nowhere to be found. Go figure.
So instead of the longer (read: long-winded) version, you'll get an abbreviated version of recent events (stop that! I hear you out there breathing sighs of relief!)
My birthday was Friday and my husband gave me the greatest gift a man could ever give (other than his heart, but I already have that): he accompanied me around the city, actually stepping into multiple yarn shops with me, and the key to it all is (shhh....build up the suspense): there was no complaining, no protest, no grunts and sounds of general boredom!!!!! He actually conveyed contentment and interest while we were in yarn heaven! Now, I know much of this wonderful behavior has to do not with a love of yarn but with the fact that he is highly interested in my next project. Now, why are most men extremely interested in a project that their wives/girlfriends/etc are knitting and the cat/dog/etc are un-knitting? Yes, precisely. It involves an item for HIM. (Now, I personally find this trait very endearing: To have my husband peer over my shoulder and ask "Are You Close to Finishing That?" or comment "Wow, You're Going Fast On That" is comforting, cute, and slightly ego-boosting (who said only men have egos?). Anyway, back to the point, the project in question that currently interests my husband is a DALE OF NORWAY sweater (exact pattern yet undecided). I showed him the
Winter Olympics Team Sweater 2006
and he really liked them. To his question "Can you make one?" I responded that
duh,
of course I can
because I am such an awesome knitter that a Dale Sweater was something I could do from my very first cast on
I would love to make one for him. I also showed him the
Yarn Harlot's Dale Sweater
that she completed in her 16-day Olympic Knitting Sprint. He was impressed. Anyone should be. Awesome display of skill.
So, the long and short: husband accompanied wife on trip to yarn shops, made wife very happy, wife had awesome birthday. Husband very excited about difficult sweater wife will make for him, thinks wife is cool. Wife again very happy.
Now for interpretation of the pictures: I received a gift card to
Yarn Garden
for my birthday (Yay! More yarn!) so I trucked myself on over there that same evening I received the card and bought two balls of
Opal
, one in the Blue/Black shade colorway you see below and the other in the red/white colorway. I also bought the little needles you may be able to see in the pictures if you squint really hard. They are so small it is like playing with toothpicks. They are five inches long and size 1 needles. Very strange to get used to since I have so far only made socks with DK weight yarn and this
Opal
is sock weight/fingering. My opinion of both the yarn and needles is still in progress so I'll update you later on that.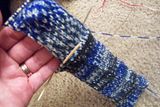 I have just turned the heel here. I may have made it too small width-wise. Doesn't matter now, though, since I just learned that I should read my emails closer. These socks were for a 10-year-old cousin who evidently likes ORANGE and not BLUE. Yes, interesting how I mixed up those two not-so-alike colors. So as you can see, it doesn't matter that the heel is small because I am TAKING ALL THE STITCHES OUT and making a bigger pair as boot socks for my hubby.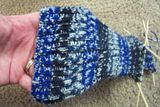 All is not lost, though. I can show you that this yarn stretches very well in a rib (k2,p2) pattern. I was surprised at its elasticity since the yarn itself doesn't feel like it has any give. This yarn is actually turning out nicer to work with than I thought it would. I guess all those gals in the Yahoo Sockknitters groups know what they are talking about!! (Go figure.)
Here was my gallant beginning of the red pair of socks for my 7-year-old cousin using the Magic Loop Method (more one this in a later post). Turns out she doesn't like red. She likes pink or purple. I am beginning to question my reading skills or at the very least my interpretation abilities. Sheesh. Now I'm not sure what to do with this ball. "Make socks" would be a logical answer but we'll see. Who would want them? I offered them to my husband but he thought he might look like a girl. I didn't tell him that he looks like one anyway (JOKE!!).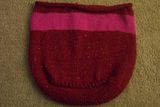 Last but not least, my soon-to-be-felted purse. Notice there are no handles. If you were at my house you would notice there is also no washing machine. So I must 1) wait for the ball of yarn that I'm going to use for handles to finally show up at Tangle (please hurry!), and 2) felt this bag in my bathtub or trek over to the house of either parents or parents-in-law so as to make use of their machine. We'll see. Either way, I think it will turn out very well. After this is felted I will proceed to felt a HUGE knitting bag for myself with wool and stripes of novelty yarn that won't felt.
Until I rip out my projects and start over, tata! I must tutor tonight and then I will browse around for yarn for large projects looming on the horizon. Updates to come.