Yesterday BJ and I drove to
Detroit Lake
(we love that place!) and while BJ fished a little, I knitted in the Jeep. Although BJ loves fishing he decided rather quickly that he had enough and wanted to roam around the area. So we walked across the Flats and I got lots of pebbles under my feet (not knowing we were going to be so adventurous I wore flip-flops). Some of where we walked was on land normally under water. (During the winter months they let the water out of the lake to avoid flooding and then come summer it is allowed to fill again and the summer recreation begins. The lake is usually full of water-skiiers, fishermen/women, ski-bisquiters, swimmers, etc. The lake is enormous and mountains surround it on all sides. It is usually quiet but for the sounds of all the fun and occasionally a truck going by on the highway across from the lake. The forest surrounding the lake is part of
Willamette National Forests
) I found lots of snail shells and half-dead grass. Eventually we headed back to the Jeep and the rest of the day drove up mountain roads in the area. Some of them still had snow on them and since both my husband and I love snow so much we had to drive in it and take pictures of it. I would normally have gotten out and played in it but I was knitting and BJ was having far too much fun doing 4x4 things in the snow for me to bother with stopping him. It's so cute when a grown man plays like a little boy.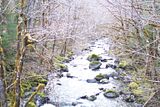 And of course, my beautiful kitty! Sometimes he just watches us. This is one of those times. Not too long after I took his picture he curled up next to me while I was preparing last night's post.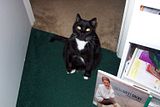 This was from about a week ago. BJ was trying to take a good picture of him but he wouldn't stop getting up in the middle of the picture-taking. This is him preparing to rise. This is also what he looks like when he is chasing a laser-pointer. See the concentration on his face?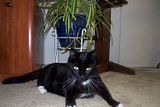 What a wonderful world!