Lace, Lace, Lace!
Hi again! Long time no talk! We have a new computer which we just set up and I have internet access again but can't yet upload pics. So, though I have made quite a bit of progress on my wrap and even have step by step splicing to show you (so handy!), today will consist of dream-projects. In other words, I show you pics I found of wonderful things that I would like to make once I get my (billions of) current and en queue projects completed. Most of these pictures and designs come from
Fiddlesticks Knitting
, a site I discovered while attending the on-line
Lace Symposium
hosted by
Knitting Beyond the Hebrides
. I never thought I was a lace girl but I accidently started knitting myself a scarf about a year ago which was lace (didn't realize that when I started) and discovered that I really enjoy lace knitting. My wrap is also considered lace since the design is formed with yo's and K2together's. Turns out I'm a lace-girl more than I thought!
In no particular order, here are beautiful lace shawls, wraps, etc that inspire me to be a better knitter, knit lace, and GET MOVING on my current projects so I can start some more!! Oh the joys of knitting!
I find this Romance Shawl especially beautiful (though I at first thought, whoa! that's a lot of pink!):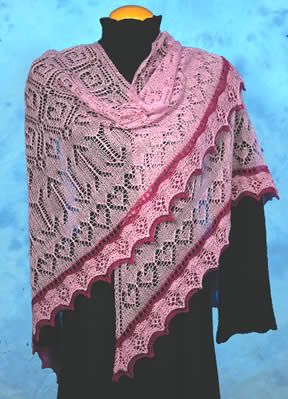 Here's the first shawl I saw of
Dorothy Siemen's
designs. This caught my attention and introduced me to all the others. Meet Peacock: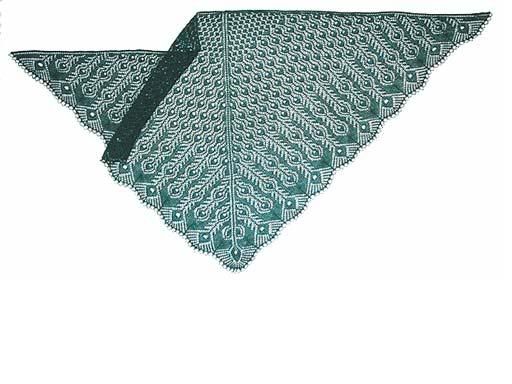 and the back view of Peacock: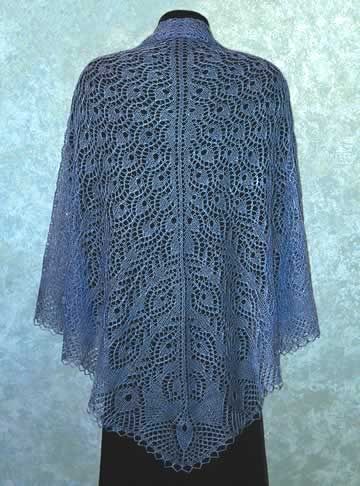 Next comes Paisley (gorgeous!):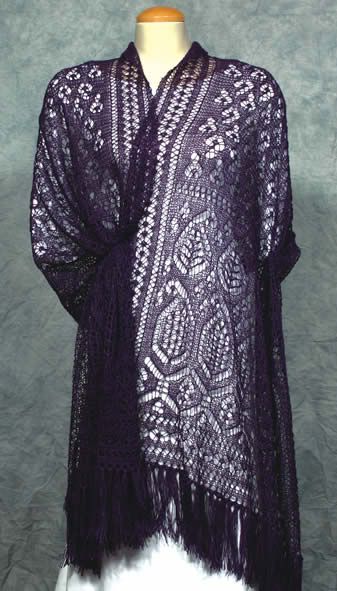 Garden:
and Spider: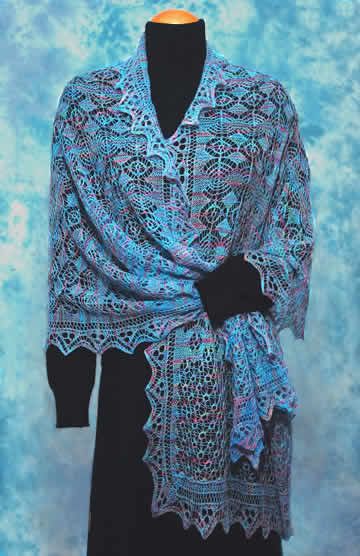 So many to choose from! You should check out more of her shawls
here
. You know what this makes me want to do besides buy yarn and knit lace?!
Design lace
. Yes, I know, more difficult...but look what I could create!!! Just wait. I'll make something and then post it as a free pattern on here. It might take me a while to get there considering all the projects I already have going and the ideas for more but...I'll get there...and end up with a desk looking like this (Dorothy's desk as she designed the Peacock Shawl):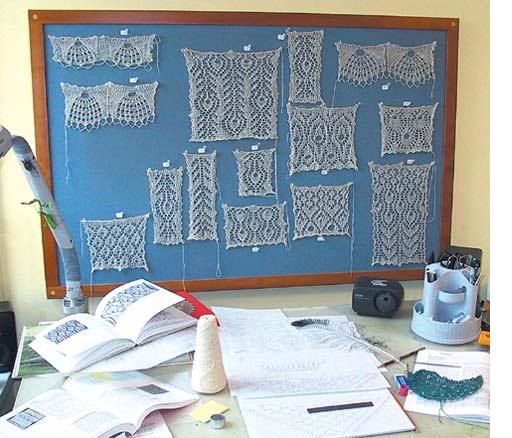 By the way, if you are interested in lace you should make sure to read
Liz Lovick's downloadable pdf on Shetland Lace
. It has tons of great info and not only that, it's free! She talks about the different types of Shetland Lace and even includes patterns. I can't wait to finish reading it myself. Sounds like a good weekend project (with a cup of coffee, of course!)
Have a great weekend!