New Puppy!
Sunday BJ and I took a trip to
WelBea Kennels
in Centralia, WA to pick out our Corgi pup. It was a two hour ride spent in anticipation and punctuated by frequent outbursts from me, "I'm so excited, we're going to get a puppy!", "Yay, we'll have another family member!", "This will probably help prepare us for being parents", "AAAAAAAAAAHHHHHHHHHHHHH, a puppy!!!! Yay, yay, yay!", and of course, "What will the cat say?" We arrived, met all the moms and pops and doggies on "dates" that populated the kennel. The mother of the litter we were looking at was beautiful but very small for a corgi. The father was "normal"-sized. We picked the biggest one of the litter so hopefully it will be in the mid-range for size, but not that it matters much. Our little squirt was trying to run around which was amusing since she couldn't even walk very well. She'd walk a few steps and her little behind would fall to the side and she'd have to get up and try again. She seemed to be relatively laid back but I was happy to see that she was wrestling with her siblings too. She was very curious and didn't lay down to sleep until the very end of the time we were there (a few hours), long after her siblings crashed. I think she will be a good match for us with all our camping and hiking and road trips and the like. Corgis are very good family dogs and great with children as well so...as soon as a baby comes along (no, no plans now), we'll have a dog that he/she/they can grow up with. As for a name, we might name her Eina (feminine Einstein) but really we are still in deliberations about it. Who knows. Maybe she'll end up named No Name or (my bad idea) Einsteinetta. Scratch that. My husband would rather stick a hot poker through his eye and have someone jump on the end of it than name a dog Einsteinetta. So, we don't know what the name
will
be but we sure know what it
won't
be.
Without further ado, our unnamed pup....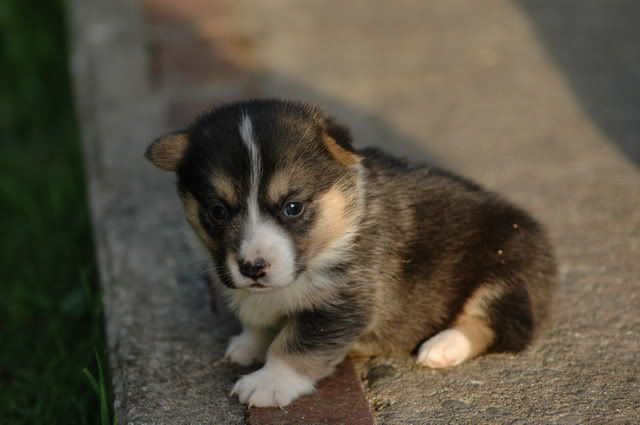 In this pic our pup is in the middle...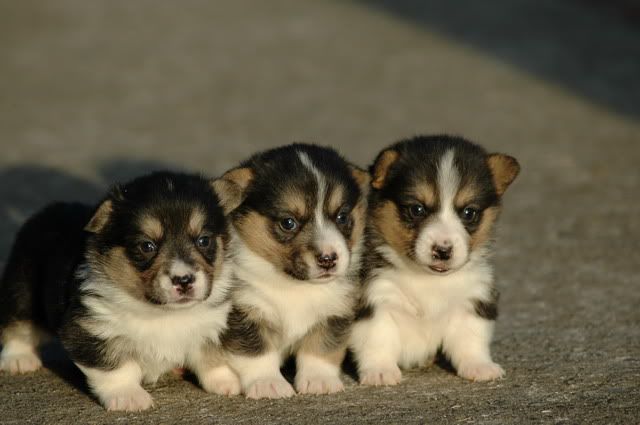 We get to pick her up and bring her home with us in about three weeks. We will be camping the week before that for our anniversary and I just don't know if I will be able to be patient! Of course, I don't want to waste away our vacation with longing, so I'll just enjoy every day and try to be patient. BUT I CAN'T! LET THE DAY COME SOON!!
(Abbie, hush!)